by Krishna Kumar
president@certifiedcoach.org
The summer of 2013 was a memorable one. Legendary coach and former world motorcar racing champion, Sir John Whitmore, graciously agreed to deliver the keynote address at the IAC sponsored Leadership & Coaching conference in Bangalore, India. On that occasion nearly 50 of our members from Asia, Middle East and Europe watched the IAC Board confer our first Lifetime Achievement Award on John Whitmore.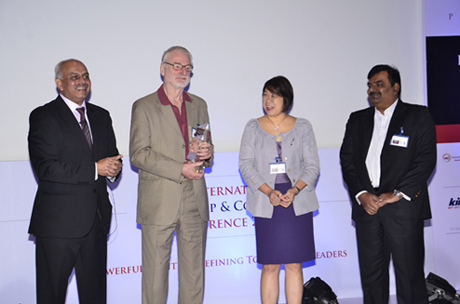 As the conference organizer, I was privileged to host him during his three-day visit and spend many fascinating hours in his company. During our many conversations, John would often cryptically remark, "Coaching is more than coaching," and the full impact and meaning of these words took me many months to fully comprehend.
We live in turbulent times. In the past decades we have gradually watched multi-stored complexes dwarf our church steeples, minarets and temple flagpoles that once lorded over our towns and cities. The God of Mammon now seems to be overpowering and changing the very nature of our being. Does it signify a symbolic move away from spiritual to commercial leadership? If yes, where are we heading? What is our new search for meaning?
In varied coaching conversations we seek answers from our clients that touch these topics and often transcend them. Coaching is enlightening, at times magical and almost always healing. It is through coaching that we possess the power to transform people, move them to a better place and work towards a healthier and harmonious society.
The IAC is in an excellent place to do just that. The framework of our coaching Masteries allow us the scope and flexibility to move beyond the 'doing' of coaching to making coaching our way of 'being.' By immersing ourselves in the path to masterful coaching, we go beyond changing self and changing others to creating a better community.
It is both a challenging and exciting vision. A vision that we hope will encourage others in the world of coaching to collaborate with us. Coaching will then truly be more than coaching!
I would be very encouraged to hear your thoughts at president@certifiedcoach.org .
In appreciation,
Krishna Kumar

Krishna Kumar is the Founder-Director of the Intrad School of Executive Coaching (ISEC) and a pioneer in the sphere of Leadership and Executive Coaching in India. His firm belief that coaching is the best way to learn has carried him through a varied learning journey over three decades that included donning the hats of a corporate executive, an entrepreneur, a tennis coach, a B-school professor, independent Board member and an Executive Coach. The journey continues…